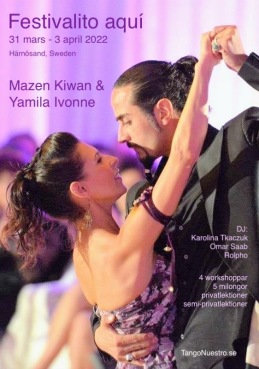 Festivalito aqui 2022: (information in English)
31 Mars - 3 April 2022
Mazen Kiwan & Yamila Ivonne
5 Milongas
4 Workshops
Private lessons
Semi-Private lessons
The festival package includes all milongas, all meals and coffee. Price 800 kr.
MUST be booked at the latest on March 17th.
Mazen Kiwan & Yamila Ivonne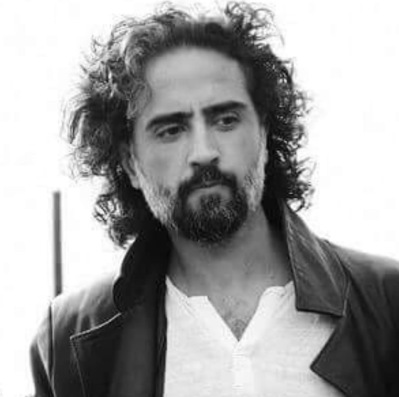 Mazen Kiwan started his career as a folk and contemporary dancer with the renowned Lebanese dance company Caracalla. He then moved to Paris and acquired a state diploma in contemporary dance while concurrently building an international career in Argentine tango. Back in Lebanon he worked towards developing the Tango scene in Beirut and organized Tango workshops and festivals over several years. He is the founder of Beirutango, a not-for-profit organization whose purpose is to promote the culture of Tango in Lebanon. He has danced and taught Argentine Tango in several festivals around the world and now has his own dance school in Beirut where he also coaches artists and performers in enhancing their body movements and posture.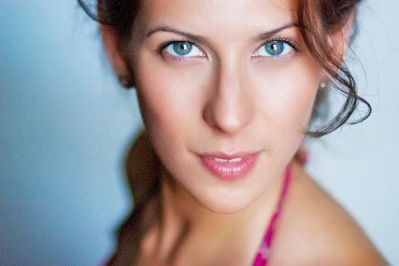 Yamila Ivonne emerged as a dancer and teacher from the New Tango generation in Buenos Aires. She has trained in Classical Dance, Contemporary Dance, Folklore, Tango Stage Dance, Milonguero & Improvisational Tango, Spanish Dances, Jazz Dance, Tap, Contact Improvisation, Yoga, Breathing Techniques and Contemplation. She has danced and taught Argentine Tango in several festivals around the world and is now teaching tango in Buenos Aires where she is noted for her personality and creativity in dance, with stresses on organic and natural movement.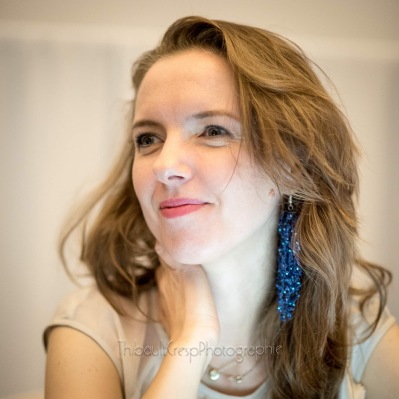 Karolina fell in love with tango, first as a dance, but shortly thereafter the curiosity and passion for the music surfaced.
Initial explorations of tango music led her to the fascination with traditional music, especially from the 30s and 40s. She believes that the task of a DJ is to create a unique mood and comfort for the dancers over and over again with each tanda throughout the night. Each dance should be a new journey for the dancers, "el viaje que dura sólo tres minutos" (a trip that lasts only three minutes). Before she plays a tanda she always asks herself, "Would I really want to dance it now, myself?"
Karolina used to be a resident DJ for the Charlottesville tango scene (USA), which was her tango home. There she wanted to introduce the spirit of "Porteño y Bailarín" and/or "Salón Canning", and she managed to attract even the most traditional and picky tangueros from the area.
Since 2014 Karolina has been living in Lodz (Poland) and DJ-ing mostly at European and Asian events (both festivals and marathons), and in 2016 she was also invited to DJ in Argentina.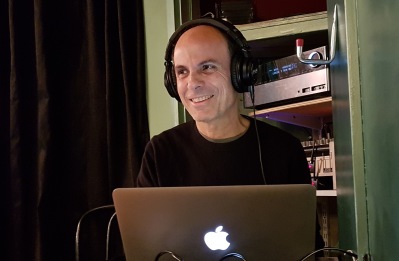 Omar fell in love with tango in 2010 and has been listening to and collecting tango music ever since. His love and passion for the music shows in his choice of songs for each tanda. His style is rooted in the traditional Golden Age of tango, but he is open to playing almost anything that fits the mood. As a DJ he always makes sure to play beautiful and danceable music that is well balanced in rhythm and melody and very much in tune with the current atmosphere. He has DJ-ed in Washington DC, Beirut, and Norway, and in the last several years he has become the main DJ in his local tango community in Sweden.


Workshops
Workshop 1: Communication Between Partners
We will focus on connection, posture tuning, breathing with the movements, and body intentions / flow clarifications.

Workshop 2: The Crowded Dance Floor
We will explore the unlimited choices of movements and techniques in small spaces.

Workshop 3: Vals
We will learn how to smoothly navigate between rhythmic and melodic phrases in the Vals rhythm.

Workshop 4: Musicality & Dynamics
Going beyond respecting the tempo and the phrasing, we have to be in harmony with what we hear (soft, intense, creative…) and let the music influence the quality of our movements while maintaining the flow.

<<<<<

Lessons
Semi-private lessons
Semi-private lessons work like normal workshops but with much more hands-on teaching and more focused on the specific group's goals and dynamics. We can suggest material to work on or the group can come up with their desired material. Lessons are meant for smaller groups, 4-6 participants (8 participants on Friday since we can use the salón). Lessons can be booked through the registration system, but payment is made after confirmation. It would be best if you sign up with other couples and perhaps agree on a theme, but you can also register by yourself, or as a couple, and hope that others will do the same.

Private lessons
We work closely with our students in our private lessons, giving them personal, individualized material and techniques that work best with their learning style. From Friday to Sunday there are time slots for private lessons with one of the teachers. You can register alone or as a couple. Lessons can be booked through the registration system, but payment must be made in € (euros) directly to the teachers. The times are the same ones as for semi-privates, and the type of lesson will be determined by the first registration. First come, first served!

All workshops, semi-private lessons, and private lessons are booked through the registration system.
<<<<<
The festival package includes all milongas (Friday - Sunday), all meals, and coffee.
Milongas can be booked through the registration system but can also be paid for at the entrance, if space allows.

Thursday 19.30 - 21.30
DJ: Rolpho
Friday 21.00 - 01.00 - Welcome milonga.
DJ: Omar Saab
Saturday 13.00 - 17.00 - Day milonga
DJ: Omar Saab
Saturday 21.00 - 02.00 - Festival milonga
DJ: Karolina Tkaczuk
Sunday 13.00 - 17.00 - Day milonga
DJ: Karolina Tkaczuk
<<<<<
Accommodations
Sometimes we can offer inexpensive accommodations at the homes of tango dancers or other families or overnight apartment.
Please send your name, phone number, and if you have a car.
Describe any special requests, such as separate beds, single room, pet allergies, and other important information.
Please note: It is safest to book other accommodations until you have received a confirmation regarding private accommodations.
Contact for accommodations:
Lars-Erik
E-mail: lee@pronovafast.se
Phone: +46 70 345 9336
<<<<<